Product Categories
RS-Series
RS-Track and Trail Machine (TNT)
RS-Ice Resurfacers
Lawn and Grounds CareNORTEC MarketingAgricultural Products
Contact us today to learn about our dealer program and exclusive benefits.
CLICK HERE
Spray Booms
Overview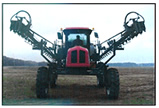 NORTEC Wide Area Spray Booms
Save Time, Labor and Fuel
Efficiency is one of the major keys to profit in today's farming, and wide area booms can help you increase your efficiency by cutting your field operation cost on the crops you grow. With a DURA TEC Wide Area Spray Boom you will realize immediate savings in labor and fuel costs.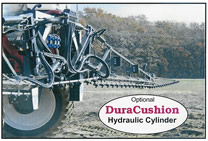 Ask about our EXCLUSIVE NORTEC DURA TEC CUSHION TEC Hydraulic Cylinders
Unique hydraulic boom shock suspension system includes "on-the-go" height adjustment. Wings fold quickly and provides collision protection. Each wing of the sprayer can be raised or lowered independently and you can spray with a single wing if desired. Optional EXCLUSIVE CUSHION TEC hydraulic cushion cylinders provides for smooth boom control fold.
Research shows wide area booms cut yield losses due to wheel soil compaction.
NORTEC Quality construction throughout assures unsurpassed durability and maximum value retention.
You'll not only save time and reduce tractor wear, but you'll cut sprayer tracks by 20-30% which means more production per acre.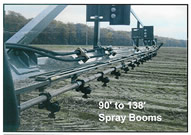 Literature
N/A
Photo Gallery
N/A
Video Clips
Video clips are in Windows Media Video format.