Product Categories
RS-Series
RS-Track and Trail Machine (TNT)
RS-Ice Resurfacers
Lawn and Grounds CareNORTEC MarketingAgricultural Products
Contact us today to learn about our dealer program and exclusive benefits.
CLICK HERE
SNOTEC PULLER * SNOTEC PUSHER
Overview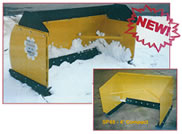 Move Snow... faster, cleaner, easier, cheaper!

SnoTec is a revolutionary way to move large volumes of snow quickly. The SnoTec utilizes a steel moldboard to push or pull the snow causing it to roll in front of the unit. This design moves a trememdous amount of snow each pass. Side plates minimize spill-over making a clean sweep.
View Specifications and Model Information *link opens in new window

Literature
Photo Gallery
N/A
Video Clips
---

SNO

TEC

PULLER

Features

Clean and scrape down to the surface
Works GREAT in conjuction with a front end loader
No more snow dribbling or making pass after pass to clean up snow spillout
Works GREAT with wet, heavy snow

AR (Abrasion Resistant)
Steel Blade Standard Equipment
Optional: Rubber Blade Kit
Inboard Skid Shoe Design
Skid Shoe placement allows for excellent side visibility. Angle shoes design to ride over obstacles. Invoard design for better trimming and durability.
Ridge Or Float
Either the rigid or the float position on the center link can be used for operation. When using the float position, the unit will be in constant travel in relationship to the unit.
SNO

TEC

PUSHER Features


Reduces Windrows
Reduces Spillage
Reduces Time
Reduces Labor
Reduces Maintenance
Mounting Options
Various Loader Mounts
Universal Skid Steer Mount
Three-Point Tractor Mount
All mounts are interchangeable. Select one or more that fits your application.

10" Extension Plate

Economical way to increase pusher capacity 33%!
Use in up position for volume
Use in down position for greater visibility
Tilts up or down with the simple pull of a pin

Skid Shoes
Placement allows for excellent side visibility
Provides "float" for the unit reducing property damage
Angled design to ride over obstacles
Minimum side extension for better trimming
Blade Options
Compact is upgradeable to AR steel or rubber blade kit
Premier is upgradeable to rubber blade kit